Talking with Your Doctor About Safety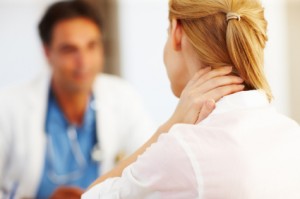 Talking to your doctor can be challenging. Sometimes it feels like he or she doesn't have time to talk to you, or maybe you're embarrassed about a certain question. But your nurses and doctors all want the same thing: for you to get better quickly. As the patient, you too are part of the health care team. It's important that you prepare, listen carefully, and speak up when you need to. To help make your care experience as safe as possible:
Be prepared. Before your visit, think about and write down any questions you may have.
Ask questions when you are unsure of what you are being told, or when some something unexpected happens. For instance, if you aren't sure what kind of medication you're being given, try saying: "I know you care about safety. And it's important to me to know what I'm taking. What kind of medication are you giving me? What is this medication for?"
Be alert and say something. During your stay, you or companion should take notes to keep track of what's happening. For example, check to see if each and every person caring for you washes their hand first. Here's one way to bring this up: "I may have missed this, but did you wash your hands?"
Talking with your doctor about medical errors
Talking to your doctor about medical errors can be difficult. It is important to be sensitive yet assertive. Try to discuss medical errors at the beginning of the doctor-patient relationship. For general information, gently ask what errors your doctor may have made in the past, what happened to the patient, and what the doctor learned from the experience. If you need to talk to your doctor about errors made in your care:
Ask what happened. Dig deeper to get an understanding of what really went wrong and why.
Ask what the doctors, nurses, and hospital are doing to keep the error from happening again.
If you are able, ask to participate in the investigation of the incident, and work with the team that develops solutions to keep it from happening again.
Expect an honest apology and if you can, accept it.
Seek support together. Medically Induced Trauma Support Services (MITSS) is an organization founded to assist in healing the relationship between clinicians and patients who have experienced an error together. MITSS also provides insights to the public to prevent similar errors from happening.
What is a patient advocate and why should I have one?
When you are a patient, you're not on top of your game. It is a good idea to have a designated person who can help you manage your care. A patient or health care advocate watches out for you while you are in the hospital. This allows you to focus on recovering and reduces the stress felt by your family members, allowing them to offer their full support. Talk to your doctor to see if your hospital has a patient advocate.